We had an excellent meeting last night, one made so very special, as we had two icebreaker speeches. The first was from Susann, called "Dare to be Boring". The second was from Norman, called "How did I get here?".

If you're not familiar with an icebreaker, the aim is to deliver a speech on any topic as an introduction to the club using any style that appeals. In short, it's the first speech that a member gives on their path to becoming a better speaker.
These speeches are especially rewarding, as they give the audience (whether fellow member or guest) the opportunity to get to know something about the speaker. Sometimes intimate details are shared. Sometimes there are just colourful and enlightening stories.
Whichever way they go, they're always precious, as they're the first step on the way to becoming an accomplished speaker. Congratulations from all of us to Susann and Norman. Here's to many more successful speaches with the club!
Rewarding Achievements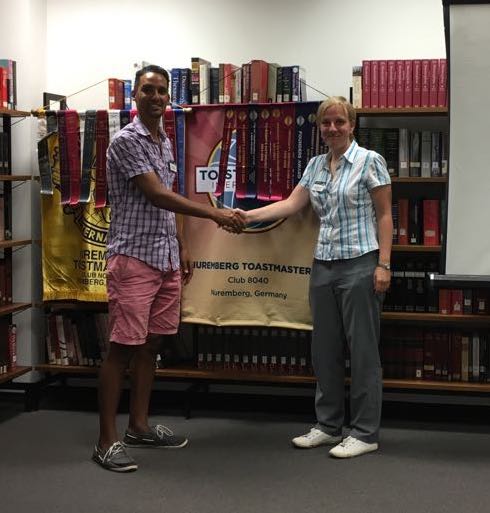 It's always great for club members achieve milestones. So it's only right that we reward them for their efforts in doing so. Pamoda receive his CL (Competent Leader) and Claudia receive her ALB (Advanced Leadership Bronze) award. Congratulations to them both. Here's to many more.