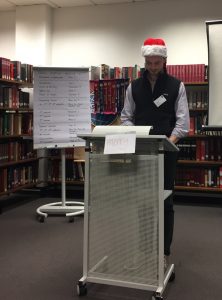 I have been a member of Nuremberg Toastmasters for nearly ten years. But last nights performance was just outstanding. Chet, our Toastmaster of the Evening, was really well prepared. He led us through the evening in true Christmas spirit – not only with a Santa hat but in verse!! Yes, you read correctly. He moderated the whole evening in rhymes!
All of his introductions were little poems and he even accounted for some last minute changes – doing some rhyming on the fly. Well done Chet! You really set the mood.
After our lovely and lively meeting, including a debating session as a welcome change from table topics and outstanding evaluations we had a sumptuous Christmas feast with hot mulled wine and ginger bread cake (mentally well prepared, since we had a Ginger Bread speech given by Liz shortly before).
To all our guests that visited Nuremberg Toastmasters this year and to all our members who could not make last night's meeting:
Merry Christmas and a Happy New Year!
Hope to see you all again at the next meeting in 2017.