What an amazing two days it was at the UNBOX YOURSELF District 95 Fall Conference in Warsaw, Poland. It was great to meet so many Toastmasters from many different countries and share the conference experience together.
Congratulations to Nuremberg Toastmasters club member Marc Schuck who came 3rd in the English Humorous Speech Contest. It was such a great achievement especially after only joining Toastmasters two years earlier.
But the journey to Poland was not an easy one. After a cancelled flight, and other options not working out, it was down to a bus trip, a 17 hour bus trip!
We were all smiles as we boarded the bus for the 5 hour first leg to Berlin. With wi-fi, light snacks and great company…what more could you want.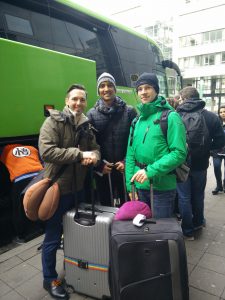 As we arrived at the Berlin ZOB a large red sign with the words 'PANDA Chinese restaurant' caught our eye. We looked at the sign, then each other, we were hungry!
The two hour dinner break flew by, and it was now time to jump back on the bus. It was a different bus this time, with slightly smaller seats, and not much wi-fi happening. The bus was full, jam packed, but off we went. From 7:30pm until 5am the next morning we tried to sleep but were woken up by people getting on & off every few hours.
Finally we made it to the bus station in Warsaw, now all we needed to do was take a taxi to the hotel. It was like we were in the amazing race…trying to make it before the registration briefing opened in the morning for the speakers.
We arrived at the hotel and checked in, had a shower and then went to sleep. It was an exhausting journey…17 hours mostly in a small seat on a bus.
The conference was an experience which started with a keynote speech by George Yen, DTM. George told us many stories from his past linking them to the 3 essences of leadership success – being, doing and having. There were also many great workshops including 'key to effective social media strategy' and 'story telling made easy' just to name a few.
The semi-final speech contests were very competitive and at such a high standard. Marc delivered a great speech making it through to the final the next day.
During the final Marc once again delivered a great speech, lifting the bar even higher. Having worked on it even during the evening of the night before, there was nothing left to do except sit back, relax and wait for the results to be read out at the gala dinner.
It was a long wait, but finally Marc's name was read out as third place winner. He ran up with excitement and collected his trophy in his trademark orange suit. It was great to experience this moment with him, after having started the journey together at the club contest.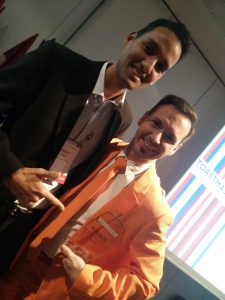 Congratulations again Marc Schuck, a well deserved prize at the end of such a long journey.
————
Nuremberg Toastmasters is a part of Toastmasters International, a non-profit educational organization that teaches public speaking and leadership skills through a worldwide network of clubs. If you would like to know more about Nuremberg Toastmasters, Humorous Speaking and you're looking to improve your public speaking and leadership skills, then get in contact with us. You are welcome to attend our meetings any time.
We look forward to your visit.