On Monday, 5 September 2016 Nuremberg Toastmasters once again held a Table Topics and Humorous Speech Club Contest. It was an exciting competition with many experienced and new members participating.
The night kicked off with the Table Topics Contest where contestants were called up one by one and received the same question from the contest chair. With no prior knowledge of the question, contestants had 1- 2 minutes to answer. If the speech was less than 1 minutes or more than 2min 30sec, they would have been disqualified.
Pictured below is Table Topics Contest winners (l-r): 2nd place – Peter Bird (ACB, CL), Hiram Ergetu – Contest Chair and 1st Place – Loai Hesham.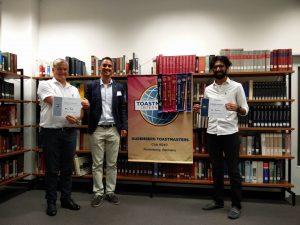 For the Humorous Speech contest, contestants had to prepare a 5-7 min speech with a topic of their choice, consisting of an opening, body and conclusion.
Pictured below is Humorous Speech Contest winners (l-r): Contest Chair – Matthew Setter, 1st place – Marc Schuck (CC), and 2nd place – Skylor Zhang.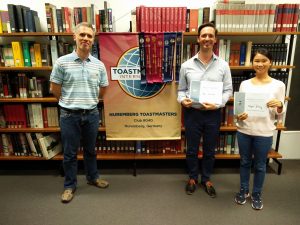 Nuremberg Toastmasters Club Contest Participants: Hiram Ergetu (Contest Chair), Peter Bird (ACB, CL), Hans-Joachim Roesler (CC), Skylor Zhang, Loai Hesham, Marc Schuck, Phuc-An Tran (CC, CL) and Matthew Setter (Contest Chair).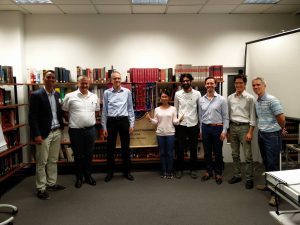 If you would like to know more about Nuremberg Toastmasters, Table Topics or Humorous Speaking and your seeking to improve your public speaking and leadership skills, then get in contact with us now. You are welcome to attend our meetings any time.
We look forward to your visit.